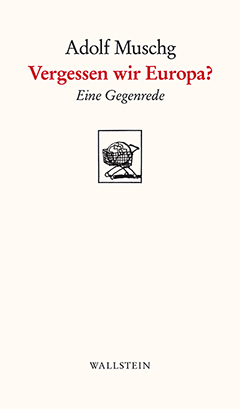 Content
On the occasion of the celebrations for the Day of German Unity, October 3, 2012, Adolf Muschg made a plea for common European policies in face of the European financial and debt crisis. The Swiss author and literary specialist complains that the current globalised market is based on selfishness and greed, and expresses the wish for a »turning point« like the one experienced in 1989.
With sparkling rhetoric, Muschg criticises blind economic growth as »the prelude to apocalyptic distribution struggles« and warns that Europe should place more value on its historical capital: the development of democracy in Ancient Greece. Reverting to the New Testament and Jacob Burckardt's political ideas, Adolf Muschg pleads for a European ideal in which the partners involved can rely on one another over and above the constraints of radical economic thinking.
Shortly after his address, the European Union was awarded the Nobel Peace Prize. Thus Muschg's highly acclaimed speech, which appears here in a slightly updated form, gained an even higher significance.

Can the EU be saved by the Nobel Peace Prize? The Swiss author and literary specialist examines the roots of democracy.


The Author
Adolf Muschg, born in 1934, was a professor of German language and literature at the ETH Zurich until 1999, and is considered to be one of the most important writers of contemporary German literature.
President of the Academy of Arts Berlin (2003-2005); member of the German Academy for Language and Literature Darmstadt and the Academy of Sciences and Literature in Mainz.
Rights sold
Rights available