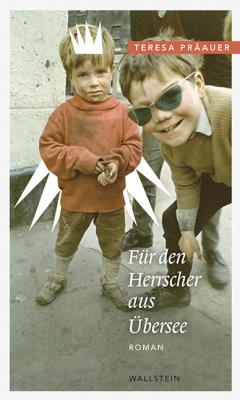 Content
»It's about people, birds, relationships, pilots and a Japanese woman«, says Teresa Präauer of her debut novel. And in fact there are some quite wondrous happenings in this enchanting novel.
A female aviator glides along in a bean-shaped aircraft, accompanied by birds flying in a formation.

The grandfather is immediately able to explain this to his small grandchildren by pointing his middle and index fingers upwards in the shape of a

for victory, for the formation the birds fly in! And with the same level of enthusiasm he shows them how to fly, teaching them to study the birds closely so as to learn their flying tricks. The grandfather is a real expert, himself having been an aviator until he crashed one day and met a rather mysterious Japanese lady whose aircraft he was then obliged to repair. On the one hand so that she could fly home again, and on the other… The children hang on his every word, and the stories become more and more fantastic. That is, if the grandfather does not suddenly turn grumpy and give his listeners a telling-off, along with their grandmother, who bears no comparison to the Japanese lady. Or does she…?

The Authoress
Teresa Präauer, born in 1979 in Linz, studied Painting and German in Salzburg and Berlin. She lives in Vienna where she paints and writes. This novel is her literary debut.
Rights sold
Arabic: Kalima Foundation
Turkish: Kalem Agency