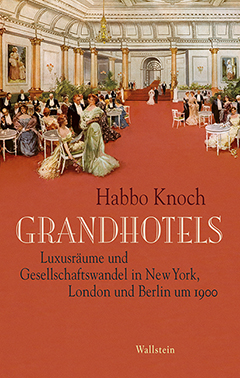 Content
At the turn of the century, the grand hotel was a realm of experience, a house of dreams and a media event. Its history provides a multi-­faceted picture of society during this epoch.

Whether it is seen as a »marvellous thing« or a »form of homeless existence«: from the beginning of ultra-modernity around 1880 to after the First World War, the grand hotel had a central significance for the social life of the European and American elite. It was a meeting place for men of power and social climbers, business people and travellers, literary figures and posers.
The pacesetters of the cosmopolitan hotel culture were New York, London and later Berlin. A growing upper class was in search of luxurious splendour and profligate consumption, secretive discretion and public attention. The latest technology, rational organisation and global exchange gave rise to the emergence of a »world within the city«.
Associated with the luxurious life of the grand hotels, Habbo Knoch describes a wide panorama of metropolitan sociability around 1900, between belief in progress and cultural criticism. The author clearly shows how, in the grand hotel as a symbol of modernity, traditional social order was dismissed in favour of temporary societies.

Habbo Knoch, born in 1969, professor of modern and contemporary history at the University of Cologne; 2008 to 2014 director of the Lower Saxony Memorials Foundation. Publications include: Gewalt und Gesellschaft. Klassiker modernen Denkens neu gelesen (Violence and Society. Classics of Modern Thought Newly Interpreted, co-ed., 2011); Orte der Moderne. Erfahrungswelten des 19. und 20. Jahrhunderts (Realms of Modernity. Worlds of Experience in the 19th and 20th Centuries, co-ed., 2005); Die Tat als Bild. Fotografien des Holocaust in der deutschen Erinnerungskultur (The Deed as Image: Photographs of the Holocaust in the German Culture of Memory, 2001).
Rights sold
Rights available