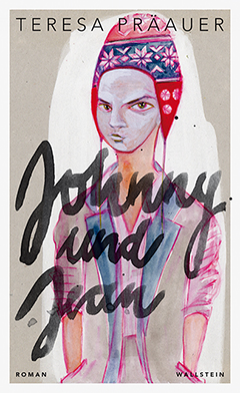 Content
The second novel by the winner of the aspekte Prize. Highly imaginative, playful and fast-paced, on art and life.

Create good art! Johnny and Jean have no less goal in mind when they meet up again at the art academy after the summer holidays. The story begins with a jump in at the deep end, and there is still quite a way to go before embarking on an international career in New York and Paris. Some things that seem to be of help are the murmurings of the old masters, well­sharpened pencils and a bottle of Pastis.
And sometimes, nothing helps at all.
What if the sight of flowers makes you think of genitals? What if the police try to arrest you when you are out swimming? What if pin­up girls seem to flee from the pages of magazines? What if Europe has gone up in flames? The attendant throws you out of the museum? Your own father is a giant dwarf? You love women with French names? You would like a gold tooth in your mouth? Art has too many cats in it? The devil himself is suffering from burnout? You want to go to Zurich penniless? You want to get married to Björk?
In a series of adventurous episodes, Teresa Präauer fabricates the life of two young men who are out to discover everything about art and life. Sensuous and quick­witted!

Teresa Präauer, born in 1979, lives in Vienna, writes and draws. Studied German and painting in Berlin, Salzburg and Vienna.
In 2012 she received the aspekte Literature Prize for the best Ger- man-language prose debut for her novel »Für den Herrscher aus
Übersee« (For the Ruler from Overseas, Wallstein 2012).
Rights sold
Rights available