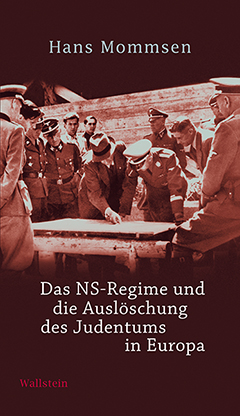 Content
Hans Mommsen describes the individual components and phases of the development leading up to the National Socialist atrocities.

Hans Mommsen, one of the leading contemporary German historians, gives a compact overall interpretation of the complex events leading up to the unleashing of the holocaust. He begins by sketching the hostility against Jews in the Weimar Republic and the role of anti-Semitism during the rise of the Nazi party. He describes how the Nazi regime radicalized the persecution of the Jews, resulting in their complete disenfranchisement.

For this issue, Hans Mommsen has extended the volume »Auschwitz, July 17, 1942« (2002) and brought it into line with recent research. In this way, a fundamental work on the subject of 20th century German history is made available again.

»For almost fifty years, Hans Mommsen has been one of the most influential contemporary historians in Germany and one of the few whose works are known all over the world. Almost all research on the Weimar Republic and the history of National Socialism is based in one way or another on the works of Mommsen.«
Ulrich Herbert

Hans Mommsen, born in 1930, is a professor emeritus at the University of Bochum. He was a fellow at the Institute for Advanced Studies in Princeton, the Wissenschaftskolleg zu Berlin, St. Antony's College in Oxford and the U.S. Holocaust Memorial Museum, and has held guest professorships at a large number of institutions abroad. He received many awards and his books have been translated into English and other world languages.
Rights sold
Hungarian: Corvina Kiadó
Russian: AIRO