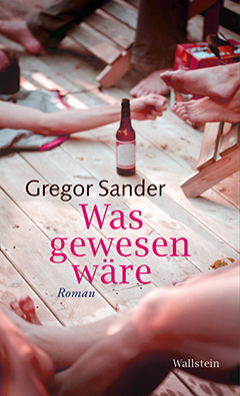 Content
Gregor Sander is a great teller of stories on the theme of human destiny.

The story begins today, in a run-down luxury hotel in Budapest. Astrid has been given this short trip as a forty-fourth birthday present from her new boyfriend, Paul. He thought it would be good for them to spend a few days away from the pressures of her children and his work. Another reason for planning the trip was that Paul wanted to look into Astrid's past. However, he ends up seeing more than he had wished for. For this story also begins twenty-five years earlier at a wild artists' party in East Germany, when Astrid fell head over heels in love with Julius. She has never really forgotten this Julius. And suddenly, everything is as it never was.
Gregor Sander interweaves past and present, telling tales of German life histories that almost make your head spin. He succeeds in creating delicate images that are full of surprises: Love, friendship, escape, betrayal. Nothing is how it seems at first glance. Or at second, or even third.

»The urgency with which Gregor Sander intertwines layers of time and points towards the continuum beneath the discontinuity, with great psychological and historical precision, reminds us of the obsessive attention to detail of Uwe Johnson.«
Nicole Henneberg, Frankfurter Allgemeine Zeitung

Gregor Sander was born in Schwerin in 1968, studied medicine, German and history for several semesters. Before studying, he completed apprenticeships as a fitter and a male nurse. After attending the Berlin School of Journalism, he now lives in Berlin and works as a freelance author. He was awarded several times for his novels and stories.
Rights sold
Rights available