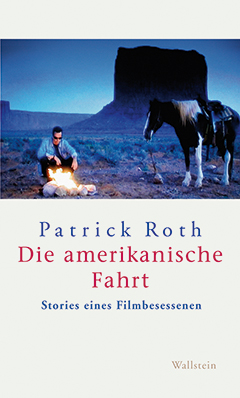 Content
»The American Journey« tells the story of Patrick Roth's beginnings in the city of dreams, his admiration for poets of imagery like John Ford and Orson Welles, unexpected encounters with Henry Fonda and David Lynch and the adventure of learning film devices for his own writing. Again and again, his stories lead us to those »movie-moments«, the sacred and magic cinematic moments that give us insight into greater things, things that go far beyond the cinema screen. Suddenly we recognise ourselves in something that is quite alien to us.
Roth's »camera journeys« begin with his everyday American life, but always lead us to existential decision-making situations. Journey and experience, reality and dreams, farewells and the gentle stirring that signifies the beginnings of love overlap one another, themselves becoming the reason for the telling of the story.
Roth's filmic stories fascinate and transform us. In them we encounter a new power of vision, a way of seeing we can learn for ourselves.

» Through a seductive perfection that is never cold, Patrick Roth's literary images unfold their magic. You can get lost in them in a way you will only ever have experienced in the cinema.«
Carsten Hueck, Deutschlandradio

The Author
Patrick Roth, born in 1953 in Freiburg/Brsg., lives in Los Angeles and Mannheim and works as a freelance author. His cinematic and dramatic works of the nineteen-eighties were followed by his prose debut »River-side« in 1991. Together with »Johnny Shines« and »Corpus Christi«, this novella makes up the »Christ Trilogy«. After 2000, the German-American narrative cycles »Die Nacht der Zeitlosen« (The Night of the Timeless) and »Starlite Terrace« were published.
Amongst other prizes, he has received the Rauriser Literature Prize, the Prize awarded by the Bible and Culture Foundation, the Hugo Ball Prize and the Konrad Adenauer Foundation Prize for Literature. His novel »SUNRISE«, published in 2012, was nominated for the German Book Prize and the LiteraTour Nord. His novel »SUNRISE«, published in 2012, was nominated for the German Book Prize.
Rights sold
Rights available