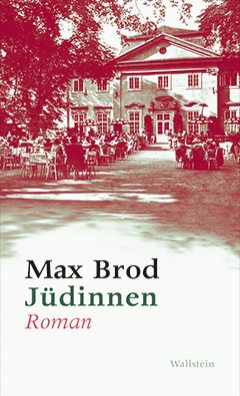 Content
The seaside resort of Teplice is the place where the well-to-do Jewish families from Bohemia meet up. Romantic attachments and proposals of marriage are the only source of excitement in this peaceful pre-1914 world; a respectable husband must be found for the pretty Irene. After several complications, her mother succeeds.
The book stands in the tradition of the »seaside novel« invented by Jane Austen, and is also reminiscent of Theodor Fontane in the description of the outings made by the visitors staying at the health resort. By no means bad company for a young 27-year-old author who constantly stands in the shadow of Franz Kafka. Brod has certainly achieved psychological masterpieces in the portrayal of the female characters.
The volume also contains the early short story »Indifferentismus« from the small volume of novellas entitled »Tod den Toten« (Death to the Dead), with which the 22-year-old caused a sensation amongst the Berlin critics in 1906, and a short »Gespenstergeschichte« (Ghost Story) from the year 1917, »Die erste Stunde nach dem Tode« (The First Hour after Death). This story makes a barely disguised criticism of the political leadership during the First World War.


The Author
Before and after the First World War, Max Brod (1884 –1968) was one of the most well-known representatives of German-speaking literature in Prague; today he is famous primarily as the editor of the works written by his friend Franz Kafka.

The Series
With the publication of »Max Brod – Selected Works«, a literary oeuvre that is no longer on sale in bookshops and rarely found in libraries is made available to the reading public again. The edition will appear in ten volumes.
Rights sold
Rights available