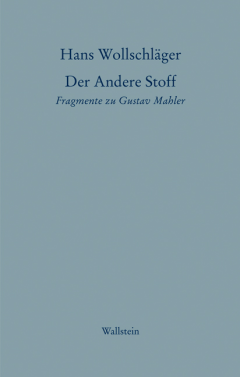 Content
On the occasion of the 150th birthday of Gustav Mahler on July 7, 2010.

Hans Wollschläger first encountered the symphonies of Gustav Mahler during the decade immediately following the war - not through recordings or at concerts, however, but by imagining them in detail whilst reading the scores. He described this as the »greatest reading experience of my entire life«, and carried on to work on the fragment of the 10th symphony for over ten years in an attempt to create a version of it ready to be performed: Gustav Mahler's music was to haunt him for the rest of his life. Again and again, he expressed his passionate fascination for this composer, either in essays and radio presentations, lectures or critical reviews. It was Wollschläger, in 1989, who held a lecture which attracted much attention, demanding a text exegesis of Mahler's scores and furiously rejecting the commercial concert business of the previous decades, with its »sloppy approach towards tradition«.
In addition to all texts on the life and works of Mahler published in Wollschläger`s lifetime, this volume also contains unpublished material from the author's estate, including an early radio essay in the tradition of Arno Schmidt.

Gustav Mahler (1860-1911), composer and conductor, Artistic Director of the Vienna Court Opera and Director of the Vienna Philharmonic, is considered to be a leading forerunner of modern music.

The Author
Hans Wollschläger (1935-2007) was a translator (translations include works such as James Joyce »Ulysses«), author, historian, religious critic, orator, essayist and literary historian. He received many awards, including the first Arno Schmidt Prize in 1982. In 2007, he was posthumously awarded the August Graf von Platen Prize by the town of Ansbach.
Rights sold
Rights available