Foreign Rights
Dear Colleagues,
On these pages you will find information about authors whose rights are held by Wallstein Publishing and their works. The best way to browse our publications with English descriptions is to use the "English" section in the left menu bar.
With best regards
Your Rights Team
Our latest Foreign Rights Catalogue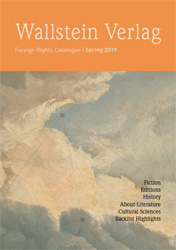 Download the PDF (0.3 MB)
Contact
Lena Hartmann
Phone: +49 551-54898-14
Fax: +49 551-54898-33
lhartmann@wallstein-verlag.de
Here, you can submit your 
Permission Request
Agents
For the following countries, please contact the following agents:
French speaking World
AJA - Anna Jarota Agency
Anna Jarota
77 boulevard Saint-Michel
75005 Paris
Phone: +33 (0)1 45 75 21 28
Fax: +33 (0)1 43 54 71 99
k.loix@ajafr.com
Italy
Berla & Griffini
Barbara Griffini
Via Stampa 4
I-20123 Milano
Phone: +39 028 901 06 46
Fax: +39 028 050 41 79
griffini@bgagency.it
Spain, Portugal, Latin America incl. Brazil
Ute Körner Literary Agent, S.L.
Sandra Rodericks
Aragó, 224-pral-2
E-08011 Barcelona
Phone: +34 93 323 89 70
Fax: +34 93 451 48 69
sandra.rodericks@uklitag.com
Poland (non fiction)
Aleksandra Markiewicz
u. Lazurowa 159/23
PL-01-479 Warszawa
Phone/Fax: +48 22 665 90 54
aleksandra_markiewicz@space.pl
About Wallstein
Wallstein Publishing was founded in 1986. A major event in the development of the publishing house was the huge success of Ruth Klüger's biography »weiter leben – Eine Jugend« (Still alive) in 1992. Partly due to its high literary quality, this book is one of the most-read literary works written in German on the subject of the holocaust, and has become a »classic of holocaust literature«.
Wallstein continues to add approx. 150 books per year to its list, ranging from contemporary literature to history and cultural studies.
Since Thorsten Ahrend joined Wallstein, there has been a constant stream of new publications in the fiction and poetry section. Titles by contemporary authors continue to set new trends in contemporary literature.