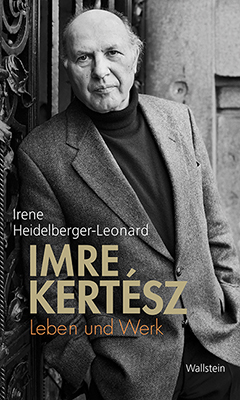 Content
Rights available.

The first biography of works on the great Hungarian author.

Long before writing his world-famous novel »Fatelessness«, Imre Kertész wrote a short text that reads like an outline of the novel. In »I, the Executioner«, a text fragment from the 1950s which remained unpublished for many years, the holocaust survivor does not write from the perspective of the victim, as one might expect, but from that of the perpetrator. A mass murderer gives an account of his deeds and describes himself as a small cog in the wheel, an unwilling executioner, thus blurring the boundaries between perpetrator and victim.
In this early text, there is already evidence of Kertész' conviction that, in totalitarianism, victim and perpetrator are interchangeable. Both sides resign themselves to their »fatelessness«, their loss of personality. According to Kertész, a survivor cannot be guilt-free – only the dead are without guilt.
Irene Heidelberger-Leonard presents the first biography of works of this exceptional writer. She shows how closely Kertész' life is bound with his work, but also the freedom with which he constructs his life within literature. Writing down his life story is for him an existential necessity; it is the only possibility of breaking out of the passive role of victim and retrieving his individuality. Irene Heidelberger-Leonard draws a sensitive portrait of the Nobel Prize winner, whose main purpose in life was self-research and its aesthetic transformation.
Imre Kertész
Born 1929 in Budapest, deported to Auschwitz in 1944 and liberated from Buchenwald in 1945. After the war, he first became a journalist, and later worked as a freelance author and translator in Budapest. His autobiographical novel »Fatelessness« first attracted little attention. It did not become world-famous until after 1989.
He was awarded the Nobel Prize for literature in 2002. His tetralogy of fatelessness in »Fatelessness«, »Fiasco«, »Kaddish for an Unborn Child« and » Liquidation« are pivotal texts of post-1945 literature. After living in Berlin for ten years, Kertész returned to Budapest in 2012.


The Authoress
Irene Heidelberger-Leonard, born in 1944, was a professor of modern German literature at the University of Brussels until 2009, and is an honorary professor at the University of London. In 2005 she was awarded the Einhard Prize for »outstanding biography« for her work »Jean Améry. Revolte in der Resignation (Revolt in Resignation)« (2004). Heidelberger-Leonard is also the editorial director of the 9-volume edition of the complete works of Jean Améry (2002–2008).
Rights sold
Spanish: Terapias Verdes, S.L.