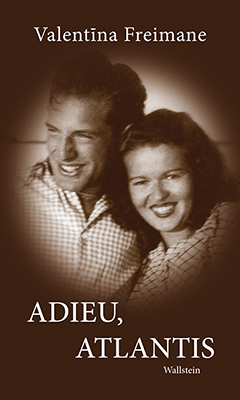 Content
International rights available through Wallstein!

What a life! The childhood of the authoress, born in 1922, could certainly be described as cosmopolitan. One of her grandmothers spoke German, the other Russian, and the Latvian-Jewish family constantly moved back and forth between Riga, Paris and Berlin. Here they lived in a guesthouse close to the Kudamm, where a constant stream of actors, directors and authors from all over Europe met and exchanged the latest news and information. Valentīna Freimane tells us about this era from the carefree perspective of an adolescent girl, painting a magnificent portrait of the period. At the same time, of course, the authoress knows that there was to be a radical change in these living conditions just a few years later. The family must return to Riga, where it experiences the occupation of the Baltic States by the Soviet Union, the invasion of the German troops in 1941, and finally the return of the Soviets shortly before the end of the war. In a precise and extraordinarily touching way, Freimane tells the story of the crushing wheel of fate that deals three blows, resulting in the loss of both parents, her husband and almost all of her remaining relatives. She herself owes her life to people who hid her at enormous personal risk – Latvian, Russian, German, Polish people, to whom she expresses her gratitude. A deeply moving book.

Valentīna Freimane
Born 1922 in Riga, spent her childhood in Paris, Berlin and Riga. Whilst her entire family was assassinated in the Riga holocaust, Valentīna Freimane was hidden in several places and survived. After 1945 she studied film and theatre studies, graduated with a doctorate in art history, worked at the Latvian Academy of Sciences. Today she lives in Riga and Berlin.


The Translator
Matthias Knoll, born in 1963, studied Eurythmic Art and Art in Berlin. Freelance work as an actor. Since 1991 freelance author and translator, member of the German and Latvian writers' guild. Lives in Berlin.
Rights sold
Rights available