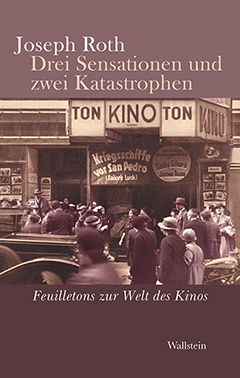 Content
Measuring the world of cinema through the medium of feature articles.

In the Weimar Republic, Joseph Roth was one of the most respected feature writers in the German-speaking world. As well as writing reports, travel features, book reviews and theatre critiques, he also became an established film critic.
This volume contains almost a hundred texts, some of them published here for the first time in book form, reflecting an abundance of very different views on the phenomenon of the cinema. Roth writes about premiere screenings, examines »cinematic drama«, visits film locations and reports on the film industry and the newly developing cult of stardom. The whole world of Weimar Republic film and cinema is brought to life again in his texts.

Joseph Roth (1894-1939) is one of the most wonderful and significant German-speaking storytellers and journalists of the 20th century. He was born in 1894 in the Galician town of Brody and died in exile in Paris in the year 1939.

The Editors
Helmut Peschina, born in 1943, author; editor of the anthology »Joseph Roth. Sehnsucht nach Paris, Heimweh nach Prag. Ein Leben in Selbstzeugnissen« (Longing for Paris, Homesick for Prague. A Life in Self-Testimonies, 2006), author of radio play adaptions of novels by Joseph Roth and a theatre version of the novel »Radetzkymarsch« (Radetzky March).
Rainer-Joachim Siegel, born in 1948, is a mathematician and the author of the authoritative Joseph Roth bibliography (1995). Editor of a collection of newly discovered texts by Joseph Roth entitled »Unter dem Bülowbogen« (Under the Bülowbogen,1994).
Rights sold
Rights available