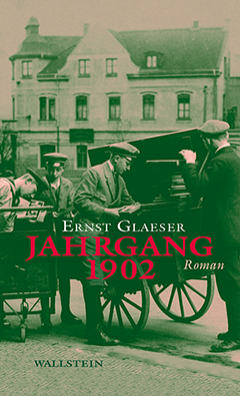 Content
»The war belonged to the adults, we just walked around in it feeling very lonely.« - Ernst is brought up in a sheltered environment in a small town in southern Germany during the late empire, and everything in his world seems intact. However, society is coloured by the basic lines of conflict during the era: anti-Semitism, political struggles between the left and the right, the rich and the poor. At first the war has a healing influence on these rifts, but the longer it goes on, the clearer it becomes how dubious the prevailing climate of jingoism is, and how unstable the present system. Glaeser links the external events with the inner life of his protagonist, who fights against the prudish world and empty morality of his forefathers to gain sexual experience and form his own opinions: »The war is our parents.«
When Glaeser`s novel is published in 1928 , it has its finger on the pulse of the time. It captures the trauma of a generation that experiences disillusionment behind the front lines of the First World War. The book - highly acclaimed by contemporary critics - is a sensational success all over the world.

»A damned good book.«
Ernest Hemingway

The Author
Ernst Glaeser (1902-1963) studied in Freiburg and Munich, worked for the Frankfurter Zeitung and Südwestdeutsche Rundfunk. In 1933 he emigrated to Switzerland when his writings, classified as pacifist and Marxist, were burned. In 1939 he surprisingly returned to Germany and became a soldier and the editor of a Wehrmacht newspaper. After 1945 Glaeser published several books, which failed to achieve the same level of success as his earlier publications.
Rights sold
Turkish: Yordam Kitap Basın ve Yayın Tic. Ltd. Şti.