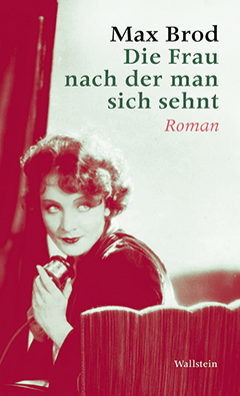 Content
In his novel about a »femme fatale«, Max Brod tells an exciting love story and proves himself to be a master of characterisation. Two men fall for the mysterious Stascha. The hero Mayreder escapes to Italy with the capricious beauty, travelling through the magnificent countryside and staying in expensive hotels, with his rival Dr. Karkos close on his heels. Until Stascha unexpectedly changes sides, which ultimately leads to her downfall. »The Woman One Longs For« became Brod`s most successful romantic novel. The film of the same name was released in 1929, with Marlene Dietrich as Stascha and Fritz Kortner as Dr. Karkos (named Karoff in the film). It was Dietrich`s last silent movie, and the first film in which she played the part of the »femme fatale«, the kind of role for which she was soon to become world-famous.

Max Brod`s most successful romantic novel from the year 1927 - turned into a film with Marlene Dietrich.

The Editors
Hans-Gerd Koch, born in 1954, is a literary specialist and the editor of several publications, including Kafka`s correspondence.
Hans Dieter Zimmermann, born in 1940, is a professor emeritus at the Institute of Literary Science at the TU Berlin, and was managing editor of the German language Tschechische Bibliothek (Czech Library, 33 volumes).
Rights sold
Rights available