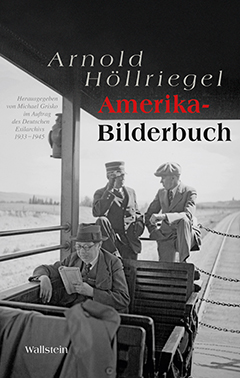 Content
Laconic and critical – Arnold Höllriegel's »Picture Book of America« shows USA society at the end of the 1920s, without clichés.

Arnold Höllriegel was one of the most popular feature writers and travel authors of the Weimar Republic. Like many of his colleagues, he visited the USA several times during the 1920s.

The »Picture Book of America« presents for the first time his documentation of a journey in the late 1920s, when he travelled through the whole of America by car, from New York to Los Angeles, from Chicago to Mexico.
His observations of everyday American society, but also of the country's unique natural landscape, impart a laconic and critical impression of the young history of the United States, painting a picture beyond stereotyped views based on life in large cities. In an essay by Michael Grisko the text, edited for the first time from posthumous manuscripts, is set in its historical context.
The cultural-historical and local background is also discussed in a detailed commentary. This unusual new edition is complemented by a large number of photos of one of Arnold Höllriegel's later journeys through North America with Hans Casparius, also published here for the first time.


The Author
Arnold Höllriegel (real name Richard A. Bermann, 1883-1939), Jewish novelist,
travel author and feature writer from Vienna. Author of the first film novel »The Films of Princess Fantoche« (1911), reporter in the First World War. He visited Egypt, Palestine, the Amazon, the South Seas, the Libyan Desert and travelled to the USA several times.

The Editor
Michael Grisko, born in 1971, studied German, Politics and European Media Studies in
Kassel und Dijon. He has worked for the Sparkassen-Kulturstiftung Hessen-Thüringen since 2010.

The Photographer
Hans G. Casparius (1900-1985) embarked on his first journey as a photographer to Africa with Arnold Höllriegel in 1930. In 1931 they both travelled to Alaska and Canada, passing through New York on the way back. After working for a large number of film productions (including »The Threepenny Opera«), Casparius moved to England in 1935.
Rights sold
Rights available