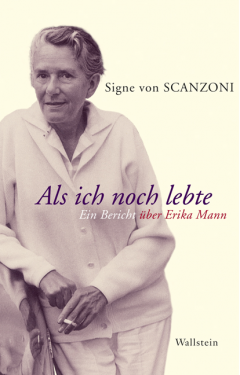 Content
A moving document on Erika Mann, and also a very personal view of the Mann family, published here for the first time.

The actress, singer and theatre critic Signe von Scanzoni was Erika Mann`s last partner. Following her death in September 1969, she wrote the »Report on Erika Mann«, a manuscript of almost 200 pages. This text, unpublished to date, reads like a lamentation of the dead, a lifetime`s confession and a final exchange of correspondence. It tells of a passionate relationship, subject to the pressures of secrecy and extreme controversy regarding politics and contemporary history.
Thanks to this sensitive, critical commentary, Erika Mann`s self-determined role as the guardian of the works of Thomas Mann and as the editor of the works of Klaus Mann appears in a new light.
In its careful but persistent, loving but distant analysis of an »unloved life«, the report is an unusual literary document: an account of a life spent imprisoned within the famous Mann family, and a report on the death of a loved one - given in a sensitive but detached way.

The Author
Signe von Scanzoni (1915-2002), a singer and theatre critic in the circles surrounding Gustaf Gründgens and Clemens Krauss, was a close friend of Erika Mann (1905-1969) from 1957 onwards.

The Editor
Irmela von der Lühe, born in 1947, professor of Modern German Literature at the Free University of Berlin, publications include Erika Mann. Eine Biographie (Erika Mann. A Biography, 2009), Ethik und Ästhetik des Mitleids (The Ethics and Aesthetics of Sympathy, 2007, with Nina Gülcher).
Rights sold
Rights available